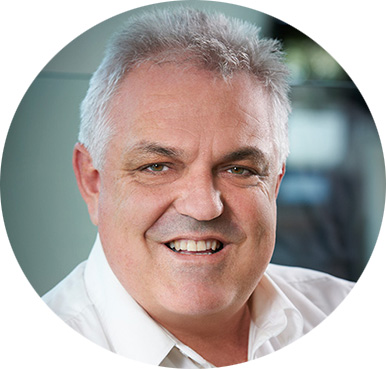 Wiley attended and exhibited at the recent Dairy Industry Association of Australia (DIAA) Victorian Division Conference in Melbourne. With the theme of "Is our industry training and developing our people to world-class standards?" Arthur Seiler, Wiley's Dairy Technologist and Project Manager, shares his top insights from some of the keynote speakers.
Steve Christie (Wiley Process Engineering Director, Engineering)
Wiley's own Steve Christie took to the presentation stand to discuss the future of dairy manufacturing and food facilities. Speaking on futureproofing manufacturing Steve touched on three key elements that manufacturers will have to consider when designing their future facilities:
Connectivity – The Internet of Things (IoT)
Artificial intelligence – Machine learning
Mobile revolution – Collaborative robotics
Wrapping with some advice on the best ways to bring these ideas together and make them a part of your next project, Steve closed on the topic of collaborative project methodologies. Stay tuned to the Wiley website for his follow-up white paper.
Göran is the chair of the Value Add and Industrial Growth Sub-Committee of the Economic Development Board in Adelaide and is a member of the Council for Flinders University and CSIRO's Manufacturing Sector Advisory Council.
Göran shared his his top 3 food markets to focus on:
Convenient Food
Functional Foods – a market currently growing at 10% per year
Luxury Foods – growing at 2% per year (limited in growth only by the availability of product to buy)
For example, a current trend in China is the gift-giving of beautifully packed fresh milk in glass bottles at approximately $100 for 500ml.
He discussed the importance of knowledge:
Continuous Learning – studies show the average usability of a graduate engineers information is three years
70% of Chinese are lactose intolerant (2/3rds are self-diagnosed)
Chinese will pay 6 times the price for fresh lactose reduced milk. Why doesn't Australia sell any there yet?
The premium and luxury dairy Asian market is small. We need to separate cost from price for the premium and luxury Asian markets
Be a leader not a fast follower. The leaders may lock you out with patents
Take advantage of emerging technologies. E.g. 3D printing of food
Understand your consumer. e.g. the best selling wine listed on a menu in Australia will be the second cheapest. In China, the best selling wine on the menu is the highest price.
Göran's two overarching priorities for Australian market were:
Focus on Value Adding, you can't be competitive in a commodity market. No high cost country gets rich selling commodities!
Understand the Asian market – for instance with 70% of adult Chinese population being lactose intolerant, why aren't we sending them lactose free milk?
Tristan White (Owner Physio Co)
Voted as BRW's Best Place to Work in Australia, Physio Co grew from 1 to 100 employees in 11 years. They provide more than 200,000 aged care consultations per year. Tristan discussed how he grew the company to where it is today.
Five years in, Tristan was stuck until he realised that he was the bottleneck in the company. He was holding the keys too tight, so he made the change to empower his team, trust and train them so that the team would now make all the decisions and take responsibility. It took six months for the team to get control of the new way of working.
The company is a values based business with 4 core values to live by:
Respect everyone
Be memorable
Find a better way
Think big, act small
Tristan's top tips:
Put the right people in the right jobs
Invest in your young staff
Create teams who can rely on each other
Team leaders mentor a successor to allow growth of the business
Building a Great Place to Work:
Paint the picture of future.  Have a 10-year goal and break this into bite-sized, 3 year visions
Discover your Why.  Believe what you believe, everyone has a need to belong
Care more than ever and show it. Include families in the journey – these are who mean the most to your employees
Execute relentlessly
Reward and recognition – employee of the Month – nominated for reflecting core values
Structured learning events every 6 weeks.
Tim Sowell (VP Global Software Xportfolio Strategy at Schneider Electric)
As the Global Specialist in Energy Management™ and market leader in industrial automation and software. Schneider Electric enables people to experience and transform efficiency where they live and work; from home to enterprise, across the grid and the city.
Tim highlighted a serious trend that he believes can be countered with a future strategy for automation of facilities.
The future projection is that people will only stay in any given role for approximately 8 months. This will lead to a shortage of skilled, deeply experienced labour across the work force.  To manage and control this, business will need to develop automation systems.