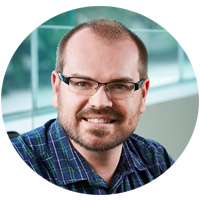 The second and third days at the Food Automation & Manufacturing Conference & expo were very interesting with speakers from Burns & McDonnell, Kuka, Kraft, Power Engineers and one of the top 100 (ethical) hackers in America.
What does it mean to be an ethical hacker? It means that he doesn't go as far as he would like to… creepy huh? But that's a whole other blog…

The standout presentation for Heath was Todd Thelen (pictured above) from Power Engineers who spoke about visualisation tools that they have developed to share information about their projects with their clients and the general public. Take a look here.
Thelen shared a sneak peek of some of the concepts they have been working on regarding 3D training for production equipment operators and maintenance staff. They essentially model the entire production line as part of their simulation stage and then they repurpose the 3D models for training in order to shorten start-up times.
Check out the brief video snippet from Todd's presentation on this concept.

At the end of the session Heath asked Todd about implementing this for production line control and monitoring as well as linking maintenance documentation to the model to improve on the typical 2D rectangular SCADA drawings on HMI screens that only provide limited information. Todd replied that this is certainly a possibility.
Heath noted that Vertical Start Up (VSU) was a hot topic throughout the entire conference with all keynote speakers discussing the importance of this approach in their handling of new projects. VSU is a start-up management process that aims to achieve full throughput on a production line on day one, In essence, it means "doing it right the first time", resulting in significant project timeline reductions and increased Client revenue.